Middle East Journal of Digestive Diseases is published quarterly an open access publication model and This multidisciplinary journal is a publication of Iranian Association of Gastroerterology and Hepatology and Shiraz University of Medical Sciences.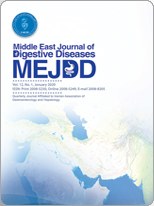 Address : Iranian Association of Gastroenterology and Hepatology,Unit 1, No. 37, 7th St., Kargar-e-Shomali Ave., Tehran, Iran
Tel : + 98 21 88335061-3
Fax : + 98 21 88335062
Email : mejdd@iagh.org
....................................
♦ Editor-in-Chief
♦ Chairman of Editorial Board
Mohammad Hadi Imanieh,Professor, MD
♦ Deputy Editor
Mehdi Saberi-Firouzi,Professor, MD
♦ Executive Editors
Mohammad Mehdi Mir-Nasseri,Research Fellow, MD, MPH
....................................
INDEXING SOURCES
1. PubMed (http://preview.ncbi.nlm.nih.gov/pmc/journals/2334/ )
2. DOAJ(Directory of Open Access Journals)
4. EBSCO
5. CINAHL (Cumulative Index to Nursing and Allied Health Literature)
6. IMEMR (Index Medicus for the Eastern Mediterranean Region)
8. Pro Quest
9. ISC (Islamic World Science Citation Center)
10. SID (Scientific Information Database)
11. IranMedex (Indexing Articles Published in Iran Biomedical Journals)
12. MagIran (Iranian Magazine Database)
The Middle East Journal of Digestive Diseases Publishing Group is a founding member of COPE (the Committee on Publication Ethics), which provides a forum for publishers and Editors of scientific journals to discuss issues relating to the integrity of the work submitted to or published in their journals.
Vol 9, No 4 (2017): OCTOBER
Table of Contents
Review Article
Original Article
Case Report
Photoclinic
Letter to the Editor
Advertisement
ISSN: 2008-5249